For those us not watching Barack Obama's "big speech" tonight, the 2012 MTV VMA's go live in just under an hour from now at 8pm live at the Staples Center in Los Angeles.
The show will start with Rihanna performing with A$AP Rocky as well as Alicia Keys, Nicki Minaj, Green Day, Lil Wayne, Frank Ocean and more scheduled to hit the stage.
Check the jump for live updates throughout the show as it airs.
OS REWIND: The 2012 MTV Video Music Awards Performers Announced
MTV Behind-The-Scenes uncut cam
7:01 Wiz and Amber have announced they're expecting (via Miss Info)
7:10 Holland Roden of Teen Wolf live on the red carpet


7:22 Demi Lovato is performing on the red carpet
7:30 Demi Lovato "Skyscraper" wins Best Video With A Message
7:41 Calvin Harris "Feel So Close" wins the first ever MTV EDM award
7:52 Wiz and Amber confirm to the world on TV they're expected their first baby.


8:00 Main Show Starts


8:01 Rihanna & A$AP Rocky are performing "Cockiness" | via @yardieiz4life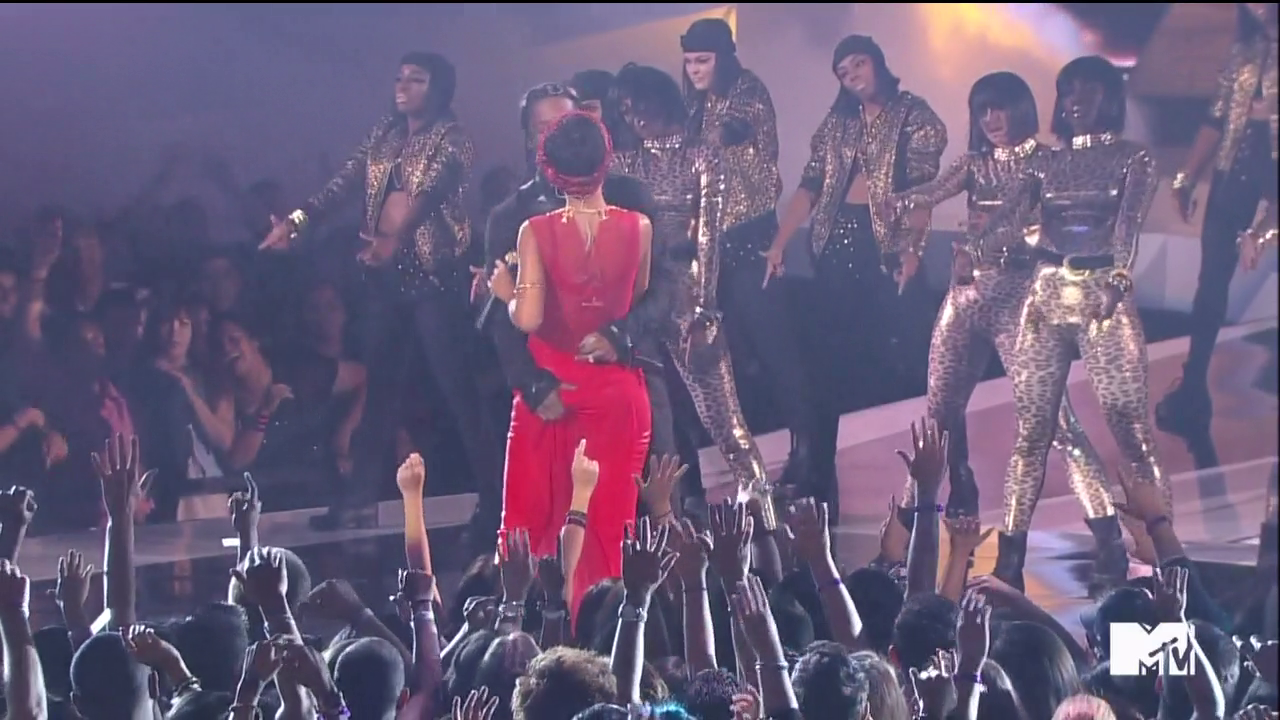 8:04 Rihanna is performing "We Found Love" with Calvin Harris
8:06 Host Kevin Hart hits the stage with a Presidential themed entrance
8:14 One Direction "What Makes You Beautiful" wins Best Pop Video
8:24 Dwight Howard makes his first public Staples Center appearance
8:25 Kevin Hart tries on the first Laker Dwight Howard jersey which covers his entire body and tells Dwight "We'll see what happens when Kobe doesn't pass you the ball."
8:26 Pink is performing "Blow Me (One Last Kiss)" for the first time ever
8:32 Chris Brown "Turn Up The Music" wins Best Male Video
8:40 Frank Ocean is performing "Thinking About You"


8:48 Drake & Lil' Wayne "H.Y.F.R." wins Best Hip-Hop Video
8:58 One Direction is performing "One Thing"
9:04 Nicki Minaj "Starships" wins Best Female Video
9:07 Coldplay "Paradise" wins Best Rock Video
9:12 2 Chainz & Lil' Wayne are performing "Yuck"


9:25 Green Day is currently performing songs…we…don't…know.
9:33 A The Twilight Saga: Breaking Dawn 2 Trailer Is Show…Cool…Forgot This Was The MTV Movie Awards
9:37 One Direction wins Best New Artist
9:44 Alicia Keys & Nicki Minaj are performing "Girl On Fire (Inferno Version)
9:55 Rihanna's "We Found Love" wins Best Video of The Year
9:55 Taylor Swift closes out the show with a performance
10:01 The End :)
"7:02″ Hello West Coast Pre-Show :)
10:13 Fin \
--